Learn How Passages International Paved an Unexpected Green Path in Funeral Care
|
Published on Aug 30, 2019
Click Here to Read the Original Story
Passages International founded by Darren Crouch has paved an unexpected environmentally-conscious path in the change-averse funeral industry. The company began almost 20 years ago, in 1999, before the term "Global Warming" was popularized and before concerns of climate change sparked a national movement. The Green Movement catalyzed in 2007 after "Step It Up," the largest grassroots environmental demonstration in recent history in which 1,400 communities and all 50 states protested for real global warming solutions. Passages was 10 years ahead of an international green movement presenting memorial products with minimal environmental impact at affordable prices. Passages traversed an unexpected path to arrive at the where they are today – the industry leader in environmentally conscious funeral merchandise.
Finding Inspiration in The Black Box
Crouch was working in the luxury hotel industry in California and looking for a career change when he recognized an opportunity in the cremation merchandise space. His wife's family was in the funeral business and his brother-in-law shared that he was starting to see a change in the values of his consumers.
"More and more [customers] were opting for cremation and saw little to no value in cremation caskets or urns," Crouch told Connecting Directors. "It did not matter what selection he offered, how they priced or merchandized them or what the demographic of the family. This was a dilemma both as a care-giver and business man."
One particular experience that resonated with Crouch was the temporary cremation container commonly referred to as the "black box." The "black box" is an instantly recognizable container in the funeral space that has grown to become a bitter icon of the challenges that cremation has presented for the industry. Crouch's conversations with his brother-in-law launched him on a mission to improve cremation containers for customers worldwide.
"I was shocked coming from outside the industry and not having been exposed to personal loss within my family, that a business a family had dealt with at what is often the most difficult time of their life would charge thousands or dollars for cremation services, only to return the remains of a loved one in a plastic or cardboard box," Crouch recalls. "It was irrelevant that it was usually free. It just seemed insulting and no-doubt left a bad taste in a family's mouth. It was a terrible option on many levels, especially since there was usually no revenue generated from it."
Crouch set out to design a better solution. His goal was to introduce a temporary cremation container that was…actually temporary. He wanted his product to be dignified, yet affordable for families; something that they would see value in, but would also be profitable for the funeral home. It was crucial that the product was impermanent and facilitated the popular ritual of scattering ashes.
"There were companies that were offering affordable traditional urns made from MDF or Sheet Metal, but even these urns were not appealing to families, because it is not all about cost and many families intend to scatter. Families that are making a decision to cremate are thinking 'ashes to ashes'/more eco-concious, simpler, less formal and less religious. Cost is often only one of many factors. If we created just another cheap urn, it would still be something a family could reject. We are educating funeral directors that this was not an urn, but was a minimum container into which the remains had to be placed if families did not select an urn. It was affordable, did not look or feel like an urn, was eco-friendly and could be easily opened for scattering."
Birth of the Earthurn®
Earthurn® became the design that would fill a gap in the funeral-customer experience while increasing revenue for funeral homes. Crouch launched his unprecedented impermanent cremation containers with a national ad campaign in funeral trade publications, by writing articles, and by exhibiting at conventions. Crouch's very first exhibition was NFDA in Kansas City in October of 1999 where he realized there was nothing like Earthurn® available.
As soon as Crouch introduced the original four Earthurn® designs he realized that funeral directors started to market them as biodegradable urns. He observed how his funeral home partners were talking about them and connected the language to an emerging national trend that would shape his brand.
Crouch explained, "Within a few years of launching the company, we realized that there was demand for a biodegradable product line and it was growing much like the popularity of iconic brands like the Toyota Prius or Whole Foods.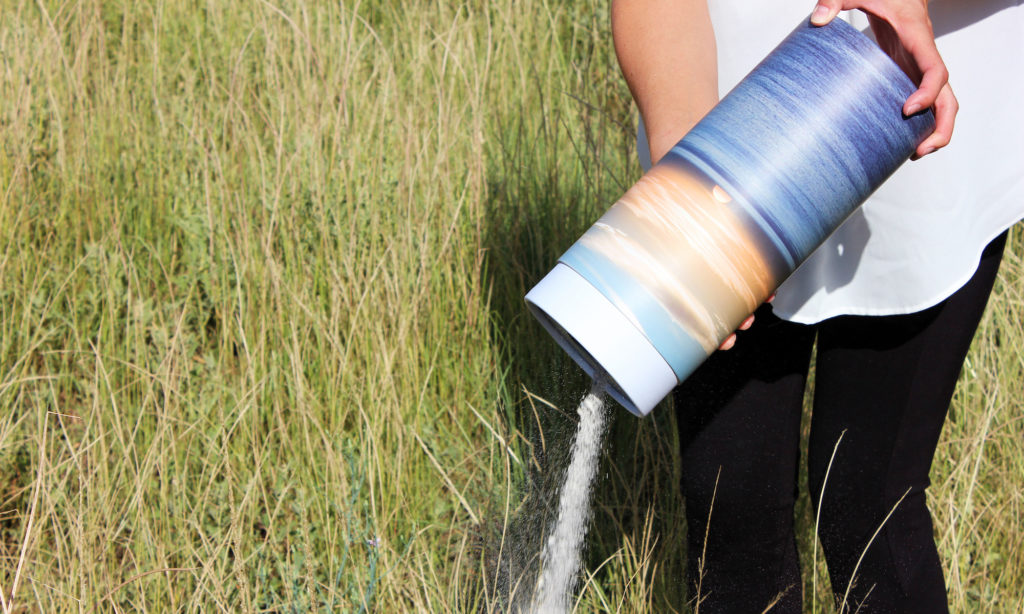 Passages International Today
Today, Passages International has an extensive product line which includes a variety of materials and styles of biodegradable urns like salt, sand, and gourds as well as environmentally-friendly wicker caskets. Their products are offered in tens of thousands of funeral homes around the globe and in 2017 alone they sold nearly 100,000 eco-friendly products – They are on track to pass that sales volume for 2018.
Passages has ridden the green wave of environmental consciousness for twenty years and it hasn't even crested yet…
"With our wicker caskets we are hearing that green cemeteries are selling many more graves, pre-need than at need," Crouch said. "Biodegradable urns have achieved wide-spread acceptance within the industry, but green/natural burial has yet to hit the "tipping point." We believe that when the baby boomers start to pass away en-mass, we will see a significant increase in demand. This is validated by several independent studies we have seen over the past several years that show interest in greener funeral options exceeding 60% in adults of 40 plus, years old."
Passages has just completed a massive expansion of their production and distribution facility in Albuquerque, NM (from 9,000 sq. ft. to almost 30,000 sq. ft.) and increased staff to position the company for exponential growth in the coming years.
When asked what he sees for the future of Passages International and green funeral practices Crouch said,
"Just like hybrid and electric vehicles are mainstream and here to stay, so are eco-friendly funeral options."